About
The Story of Indian Restaurant Kohinoor
Indian restaurant Kohinoor first opened its doors on 31st March 2008 and thanks to the hard work of its team is highly valued by its loyal customers amd has been highly awarded for its cuisine and service. Just like every new beginning Kohinoor was a hard one too, but the team work and the love for Indian food, combined with perfectionism in every detail, it quickly became one of the most popular and preferred restaurants in Sofia. The idea for a new Indian restaurant emerged in late 2007 as there weren't any descent Indian restaurant in Sofia, Bulgaria. Back then the Indian cuisine wasn't very popular in Bulgaria and the first customers of Kohinoor were mainly people, who travelled and lived abroad, as well as foreigners living in Bulgaria. Through the years more and more people started to enjoy the Indian cuisine, which is not just different and exotic, but is most of all very healthy, balanced and extremely tasty. The carefull selection of spices, which we use are not just to add the authentic taste to each dish, but are also being used as healing components throughout the centuries and have been providing for long and healthy life.
At first the restarautn was located at 3 Han Asparouh str. in Sofia and had the capacity of 50 indoor seats and 10 on the outside.





Due to the increasing interest in the Indian cuisine in Sofia on 1st December 2013, Kohinoor relocated to a new and larger setting in Sofia, located at 7 Knyaz Boris I str., where it was set in a stand alone house with a front and back garden. The restaurant had two floors - the first one having a small and a larger hall and the second floor being a very large hall with a romantic fire place. At this location Kohinoor has 65 indoor seating and 35 outdoor seating.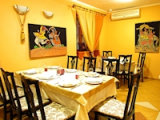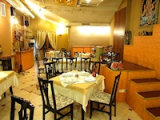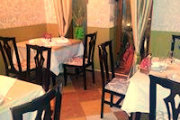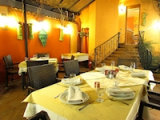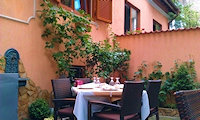 On 1st February 2019 ?., Indian restaurant Kohinoor, following its tradition relocated to a new and better location with more seating and comfort for its customers. The new location has more indoor and outdoor seating available and is conviniently located at a central boulevard, featuing plenty of parking around the restaurant at 67 Gotse Delchev blvd. At its new location Kohinoor now offers 80 indoor seating and over 80 outdoor seating. You can browse the new restaurant gallery in the gallery section of the website.
Kohinoor
The name of the restaurant - Kohinoor (translated from Hindi as "mountain of light"), is actually a 105 carat diamond, which for thousands of years has been the largest known diamond in the world. The Kohinoor diamond was mined in Glokonda in the state of Andhra Pradesh in Southern India and belonged to a number of Indian and Persian rulers over the centuries, who fought endless battles and wars just to own the precious diamond. Lastly the diamond became property of the United Kingdom and is still a central part of the Queen's crown. It is still unknown when the diamond was actually first found, but according to some sources it was found in 3200 B.C., while others are claiming that it was mined in 5000 B.C. It wasn't until 300 years ago that the only source of diamonds in the world was India. The dimaond mines of South Africa and Brazil were actually found and exploted only in the last few hundred years. We sincerely hope and that is our aim to make Indian restaurant Kohinor a jewel in the authentic Indian cuisine in Bulgaria.
India, being one of the largest countries in the world has a very diverse cuisine and generally it could be split in four regional variaties - Northern, Southern, Eastern and Western. Despite the similiarities in the regional Indian cuisines, each has its own exotic specialities and differences. Some of the Indian food derives from the Indian Festivals and were later adopted in every day life. Some 5000 years ago the most traditional Indian spcies, such as cardamom, black pepper and turmeric have been grown in India and were much later brought to Europe. An interesting fact is that the first Indian spcie that was brough and adopted in Europe was the black pepper. Today we are so used to black pepper, that we can't even imagine that once it was not known in Europe and was actually brought from India.
Indian Cuisine
Presently the Indian cuisine is becoming more and more popular around the world. According to recent survey in the UK, the all time favourite dish of the British is chicken tikka masala, ahead of the traditional fish & chips. On top of that the Indian cuisine is not just very tasty and aromatic, but is very healthy too. Indian food contains many healthy ingredients and spices and is prepared in a very traditional and proper way, unlike the fast food that is mainly being consumed today. That's why more and more people are turning back to the ancient origings and traditions of the Indian cuisine. Opposite of the main trend nowadays where more and more restaurants are using freezed and semi-cooked components in their food, we at Kohinoor are really about the traditions and the healthy food, so we only use fresh ingredients from selected local suppliers. Most of the spices are being delivered directly from India and the UK and are also chosen very carefully.
The Indian cuisine is very famous for huge diversity of vegetarian and vegan dishes. That's mainly due to the fact that over 40% of the population of India are vegetarians, so they have mastered the art of vegetable only dishes to perfection. At Kohinoor you can experience a wide range of different vegetarian and vegan dishes. Due to the popularity of the vegetable dishes in the Indian cuisine they have developed as a seperate branch. These dishes are famous not only to vegetarians, but to traditional meat lovers too.
The meat that we are using at Indian restaurant Kohinoor is halaal certified, which guarantees not just its qualities, but ensures that it does not contain chemicals, antibiotics and stress hormones.
Other than the great food, atmosphere and service, we also put an extra care in the drinks selection at the restaurant. We are working closely with the Bulgarian Association of Professional Sommeliers to ensure that we offer a great selection of wines that perfectly match with the Indian food. We are constantly on the hunt, not just for great wines from small cellars, but also like to offer an interesting selection of beers, including Indian and kraft beers. That's why Indian restaurant Kohinoor is popular for a wide range of events, such as company parties, team buildings, business meetings, while at the same time is a favourite place for romantic couples. If you want to stand out from the crowd in your business ventures, you could invite your business partners over at Kohinoor and impress them with something very different and tasty.
Indian restaurant Kohinoor has been awarded many times by TripAdvisor with the Certificate of Excellence and has been awarded with other prizes, such as the 1st (2018) and 2nd (2017) places from the Sofia Restaurant Week festival.